D-man loves Thai food. He loves Thai food so much that he had always dreamt of marrying a Thai girl. Until he met me. Or so I'll like to think. To stem out competition, I make him his favourite fried noodles, Padthai. When he has been a good boy and behaves.
Please meet the Thai ensemble!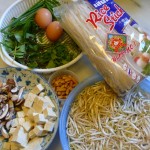 Ingredients (yields 2-3 servings)

150gms flat Thai rice noodles 1 firm tofu, diced into cubes
2 cups bean sprouts 2 eggs
1 cup shitake mushrooms, sliced 2-3 sprigs of spring onions 1 tsp chopped garlic
2 tbsp chopped roasted peanuts coriander, basil, and wedge of lime for garnish *chicken, squid or shrimps may be added if you don't give a hoot about eating vegetarian)
Condiments
3 tbsp tomato ketchup (more if you like it sweeter)
1 tbsp soy sauce 2 tbsp mushroom sauce (or oyster sauce if you are not making the vegetarian version)
2 tsp sugar 3-4 dashes of fish sauce pinch of sea salt
Heat oil in a wok (medium heat) and fry garlic till slight golden.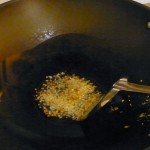 Add tofu and fry till golden brown


Add mushrooms, stir fry for about a minute, and add noodles.
Mix in all the condiments except sugar and salt.
Beat in eggs. Stir fry and mix evenly into noodles mixture. Add beansprouts, spring onions, sugar and salt.
Give everything a good stir and make sure the condiments have been evenly distributed.
Yes, go ahead now and do the ever important taste test.
Serve with garnishing and lots of mojo.