And since we're at the subject of vacations, I thought I might wanna share some of the photos we took whilst hiking/camping in Hong Kong. Yap, you heard me right, the pearl of the orient, the bustling, metropolitan, tightly-packed, Hong Kong.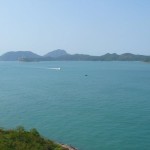 During one of the long weekends in May, Annie (Annie hates it when I call her Annie =) and I decided to visit our girlfriends, K-gal & Princess Aggie. K-gal is a straight up, ego bashing, beer drinking Eastern German girl & Princess Aggie is (yes she's a real princess!) restaurant-hopping, high-tea drinking, spa-going…ok you get the picture.  Turns out to be a wonderful combo and we spent the 3 days in Hong Kong accomplishing the impossible with side-splitting laughter & much reminising along the way.
The most memorable event during the short trip was the day of the hike and camp at Big Wave Bay. Weather was perfect & bright at about 25 degrees & skies were unusually clear. We met at the train station with the rest of  the guys and dropped by the supermart to get the essentials (namely beer, beer, some munchies for the BBQ and more beer) before taking a long cab ride to the jetty at Wong Shek.  We got a decent boat at a decent price and 20 minutes later were at the trail. The 50 minutes almost vertical hike had K-gal complaining about a sore bottom for a few days (and she cycles 32 km several times a week) although I have to say the view & the camp spot was totally worth it. You could have never imagined this sort of crisp greenery and white sandy beach existed in Hong Kong.
After setting up crooked tents and some wave crashing we collected firewood & had a campfire (I know its so like retro right?).  It was like high school all over again with sand in the steaks & pissing ourselves with games. One word, 2 syllabus, & sounds like handsome.
Why can't we have 5 days of holidays every week and 2 days of work?