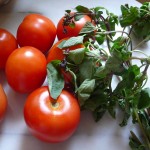 How much does supermarket pasta sauces cost these days?  I have no idea because I haven't bought any in years. It is so easy to make delicious, mind blowing tomato pasta sauce that doesn't cost the moon and the stars. I use fresh basil in this spaghetti sauce because D-man is a basil junkie and cannot ever get enough of it. We often have this sauce with spinach pasta and wild mushrooms (pictured below), but the possibilities are endlesssssssss….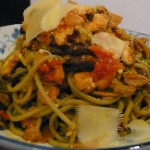 Ingredients
5-6 Roma tomatoes (or get your locally grown tomatoes but the really ripe and sweet ones) 1 onion (I use red but feel free to experiment with white) 2 tsp chopped garlic 150gm tomato puree 1 cup veg or chicken stock
handful of fresh basil, chopped 2 tablespoons of olive oil freshly ground black pepper and sea salt to taste
Dice the tomatoes, we will be using all the seeds skin and pulp (where there most nutritious part of the tomato is). Cut the tomatoes into wedges, then cut into small cubes like this.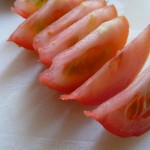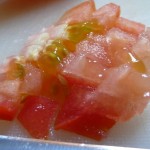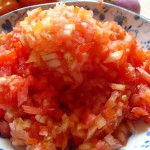 Get tissue ready and finely chop onions. *sniff sniff*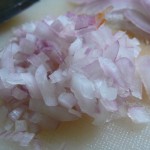 Heat olive oil in a pan and fry the garlic and onions till it gets so fragrant you feel dizzy and wozzy.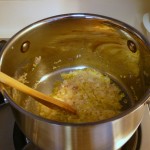 Add the diced tomatoes, tomato puree and stock. Stir well and let the sauce blob away, meanwhile stir regularly to make sure nothing is burnt at the bottom. Burnt bottoms are not pretty.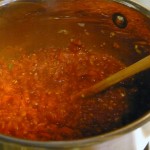 After 10 minutes or so, the sauce will thicken and reduce. Then add in the pepper and salt and do the ever critical taste test. Note: do not go crazy with this step because when you cook your pasta, there will be other flavours and you don't want to end up with a pasta dish tasting like the dead sea.
Lastly add in chopped basil and turn off heat. Stir and mix well.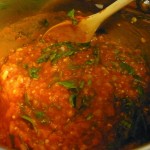 Let the cheery looking sauce cool and refrigerate. If you are preparing in bulk to be used later, store sauce in jars in the freezer.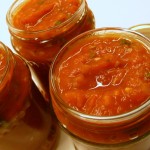 Now you have no more excuse not to make a quick, simple, healthy dinner after coming home from work.
Not that you need any.  But still good to humour your loved ones once in a a while.