Sometimes I wake up in the middle of the night, disturbed because I felt something heavy trotting all over me, or because I felt as if someone had left a radiator on my pillow. I open my tired, blackened eyes and finds this.
This morning, all the stars were aligned. It was the perfect time for revenge. She was snuggled comfortably in her bed, dreaming about a buffet of cheese and liver muffins. Then I take out an empty plastic wrapper and crush it loudly in my hands.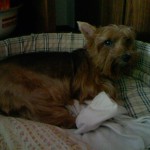 Try it with your funny furries at home. These suckers in my household fall for it 103% of the time.