Have you ever had the feeling that someone/ something is watching you? Like a pair of eyes following you around, transfixed to your every move. You know it's there but just cannot put your finger down to what or where it is. It might even get a little creepy sometimes, a little like being stalked. I feel like that sometimes.
Because she's watching me.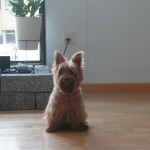 *note her victim on the floor. One of those many casualties. And counting.
Man…she really needs a haircut.
Anyway, today, this tiny stalker turns 10! That's a grand 70 in dog years!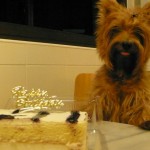 At that age, you're allowed to have some blueberry cheesecake all by yourself because no one can call you fat.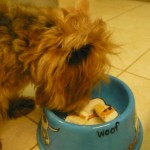 While we're happy to celebrate her birthday, I certainly hope 70 is the new 30.
PS: Baby says her birthday wish is for a very frequent and never ending supply of cookies, cakes, greenies, chicken, doggy meatloaf and carrots. Oh, and world peace. (not necessarily in that order)