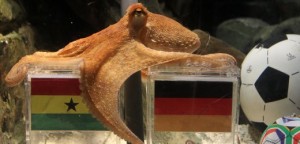 You know the whole world has gone bersek when they turn to an octopus as the football oracle.
Believe me I have nothing against octopus and I love all animals alike. Ok maybe a bit less love for rats but that's another story.
And I am not saying the octopus prediction is bollocks or bogus, but I am against the notion of using any animals for fame, money or any other entertainment reasons. That is why I have always been strongly objective to the idea of animal shows, movies, rides or any mindless entertainment uses where they are made to work in captivity. It does not serve any purpose except the people who made monetary gains out of those acts.
Punters who worship Paul Oktopus and made money out of him, did you share your winnings or do you even care about him now that Germany is out? Will you still remember him and his greatness few months down the road? Yeah, I didn't think so.
Of course this has not been a new practice. For centuries, men have been making use of animals for work, food and entertainment. Now that we have evolved and replaced animals with machines, turned to vegetarianism (for some of the greater ones amongst us) for food and the mass media for entertainment, maybe its time we rethink the need to make use of all our other mammal friends.