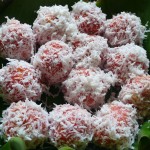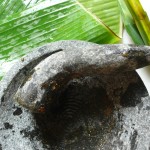 So what the heck is onde-onde? For those who did not grow up in South East Asia, this is a traditional sweet potato and glutinous sweet rice ball coated with grated coconut. The signature experience of an onde-onde is the explosion of gula melaka (coconut palm sugar) in each mouthful of these delightful balls. The old school, original onde-onde is green in colour, but because it's Singapore's birthday today, we're pulling all stops and making them in the red, proud, vibrant hue of our Singapore flag.
Ingredients
900gm sweet potatoes (approximately 2 large ones)
250gm glutinous rice flour
150ml warm water
food colouring (whatever colour you like, the world is your canvas!)
150gm gula melaka, crushed (about 3 cakes)
2 tbsp brown sugar
1 grated coconut, white part only (husk removed)
pinch of sea salt
Peel the sweet potatoes, cut them up and steam till soft. Then mash them up with a fork.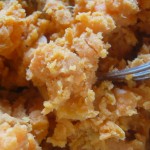 Leave them to cool for a few minutes unless you like scalding your fingers. Meantime, cut or if you're lazy like me, pound the gula melaka into bits and mix thoroughly with the brown sugar.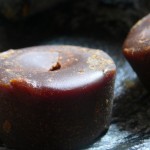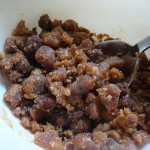 Mix the mashed sweet pototoes, rice flour and food colouring. Gradually add water and knead the mixture well to form not too soft dough.
Form into balls of approximately 25gm each.
Press each ball into a rounded circle and spoon some of the gula melaka into the centre.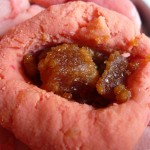 Have a dog ready under the table to hinder your every move so that the task is much more challenging than it already is. Preferably one that steals stuff like your glove for a hobby.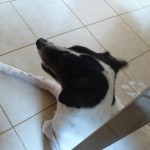 Seal each round and reshape into balls.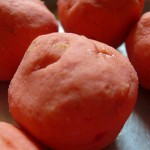 Put a pot of water to boil. Meanwhile don't twiddle your fingers for too long. Mix the coconut and salt into a large plate for the balls to dance around in when cooked.
When water is boiling, put the balls in a few at a time. When they surface up for air, catch them and dress them in the grated coconut.


When the balls are cooled, pop them into your mouths and cream yourselves with the thick, sweet, syrupy eruptions.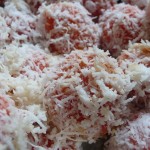 *Asian desserts like such are best eaten the day they are prepared as uncooked, grated coconut does not keep well.
Have a great one Singapore!