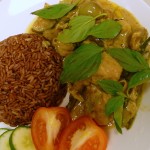 I hope you are not sick of Thai food recipes yet because I really like this curry in a hurry. D-man would starve an entire day for this too. I bought the vegetables from a Thai supermarket but if you have no such luck finding one, don't be afraid to substitute the vegetables for whatever you can get. I know everyone has their own mantra to cooking and baking. Some people need to get the perfect ingredients in perfect quantities but for me, I take food preparation as an enjoyment and am pretty much relaxed about most things. That's one of the reason why I always choose easy-to-make recipes that incorporates maximum impact with minimal fuss. (pretty good tagline for cleaning detergent?)
I looooove Thai vegetables. The Thais seem to have a stringent beauty contest which they put their vegetables through before being sold. Their vegetables are glossy, comes in cute little sizes and are always pack full of natural sweetness.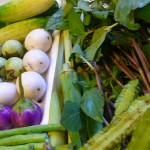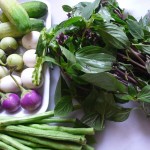 The Thai's make their own green curry paste but if you're not lucky enough to be one of those super Thai cooks, you can consider the easier alternative.
There you go. Thanks for viewing. Bye bye.
Of course I am kidding.
Ingredients (serves 2-3)
2 chicken thigh, diced (you can use chicken breast but I prefer thigh)
2 cups of mixed vegetables (baby eggplants, french beans, or any other vegetables you like)
2 red chillies
1tbsp ginger, finely diced
2 stalks of lemongrass. chopped
1/2 red onion, chopped
1 tsp chopped garlic
2 tbsp of green curry paste (or more if you're crazy like that)
2-3 tbsp vegetable/corn oil for frying
150gm hot water
250gm coconut milk
2 bunches of Thai basil, (leave some for garnishing if you like it raw)
big bunch of cilantro
juice of half a lime
Heat wok and add oil. When oil is hot, fry onion and garlic for 1-2 minutes. When slightly golden, add chicken dice and stir fry to prevent chicken from sticking onto the wok. When chicken turns pale, add green curry paste and continue to stir fry till everything looks well mixed and smells wonderful. Add vegetables, chilli, and fry everything a good minute more. Add water and simmer for 10 minutes or until chicken is tender without overcooking the vegetables.
Add coconut milk, stir lower heat and simmer for about 5 more minutes.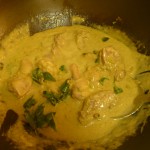 Turn off heat, add basil, cilantro and lime juice. Stir and serve with rice. Sprinkle some basil leaves for that extra oomph!