Aunty Scroogey would love this one. It's basically a meal made out of all your leftovers and really cheap ingredients. I used potatoes, carrots, onions, eggs and bit of mushrooms but you can make this easily with any seasonal vegetables you have or meat. This recipe is rather "loosely compiled" and flexible because you can put as much or as little of anything to suit your own preference. Don't let anyone tell you how much or how little your pie should be!
Unless she is your mother-in-law and she's heading to your home for dinner right now.
Anyway, I found and used these from my teeny kitchen:
Pie crust
1 1/4 cup all purpose flour
100gm butter, softened at room temperature (a little bird told me vegetable shortening makes a crumblier pie crust)
1 egg, beaten lightly
some cold water
Pie fiillings
2 large potatoes (about 650 gm)
1 carrot (decent sized, not the cartoonish skinny, organic, fake, looking ones)
2 eggs, hard-boiled

1/2 onion
1 tbs garlic

handful of sliced mushrooms (depends on your liking)
sea salt, freshly ground black pepper &  stock for seasoning

Ok let's get your hiney's to work!
Rub the softened butter into the flour until you get a crumbly mix. Add half the beaten egg and roll with just enough water to form a dough log. Separate 1/3 of the prepared dough, make it into a dough ball and stick them into a ziplock bag before stashing it into the chiller. Lightly dust your work top and roll out the remaining of the dough before laying it out on your pie pan. I used a oven casserole dish because it's maroon and cute and NOT because of something ridiculous like I cannot find my pie pan.  Seriously, who loses a pie pan in a 5 square metre kitchen. I didn't say anything and you didn't hear it from me. If you find it difficult to conquer the buttery, flimsy, flappy dough, you can stick it into the freezer for 10 minutes to stiffen it and I discovered it made me a happier slave. After, that, just leave the prepared pie crust in the chiller till they are ready for business.
Cut all your vegetables. However way you like. Yes you heard me. Generally the smaller you cut them the faster they will cook (duh!) but if you're impatient like me, have no time for such painful chores, and with D-man not home yet, then you can chop them up rather chunky. To compensate, I put the potatoes and carrots into the steamer to sauna for 10-15 mins to shorten the cooking time.
Preheat your oven to 220 degrees Celsius.
Turn up your frying pan to medium heat (I like using the wok cause it brings me back to my roots. No not really, it just happened to be on the hob) with about 3-4 tablespoons of oil. Throw in the onions and garlic and let them brown slightly before dumping in the potatoes and carrots. Season with salt and pepper. Fry the mix for about 3 mins till the carrots, potatoes and onions have mingled appropriately. Drop in the mushrooms, give it a good stir and add in a little bit of stock. How much stock to put in depends on how you like your pie. D-man and I like our pies relatively dry so I only used half a cup but if you are a gravy monster then just go crazy with it (during simmering the veggies will soak up the stock anyway).  Turn to low heat and let everything simmer with the lid on for 15-20 minutes or until all the veggies are happy and soften and taste delicious (top factor!).  Mine cooed and looked like this after I opened the lid.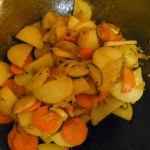 Put all the cooked deliciousness into the prepared pie pan.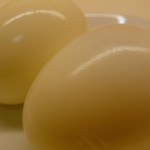 Quarter your hard boiled eggs and lay them on prepared pie pan with all the fillings already in it.  It helps if you have a furry Chewbacca-lookalike staring at your every movement. (click below picture). And I'm sorry perfectly laid vegetables and eggs are really not my forte.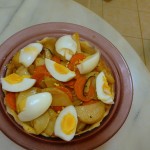 Take out the dough ball from the chiller, lay a piece of baking paper on your work top, lightly dust the paper and roll the dough into a round piece enough to cover your pie pan. Hold the baking paper on its edge and flip it onto your pie pan. Secure the edges and peel off the baking paper. This trick makes it easier to lay the flappy butter pie crust on top of the pie.  Egg wash the pie top with the remaining beaten egg and cut a few slits on the top so the vegetables don't suffocate during baking.
I'm sorry there isn't a picture of the unbaked pie crust. It's kinda tricky having to juggle a flapping, buttery pie crust and a camera with 2 dogs circling around your legs hoping to catch some of the non-existence crumbs.  Oh did I already tell you the crust is flappy and flimsy and buttery?
Stick the pie into your oven for 40-45 until the pie tops looks golden brown and yummy and your kitchen smells like Nigella Lawson's.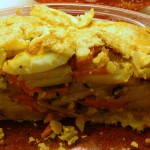 The pie crust did not come out looking as perfect (but tasted divine!) as I would have liked it to be but that's the fun part of cooking. It's not always a 100% and you get your fair share of flips and flops. But we always benfit from the mistakes and meanwhile enjoy the process of learning and sharing.
The person who said "The way to a man's heart is through the stomach" really knew a thing or 2.
D-man was a very happy man that night.