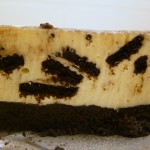 Another easy-peasy recipe that you do not need an oven to accomplish. Just a very sweet tooth and extreme fondness for cheese is what it takes. I made this for my gym mates. I hope they like it. But not enough to blame me for any weight gain.
Ingredients (makes a
marvellous
8 inch cake)
22 Oreo cookies, finely crushed 80g melted butter (I used salted) 1 tbsp gelatin 3 tbsp hot water 2 tsp lemon juice 250g cream cheese 45g milk 50g icing sugar 1tsp rum (optional) 250g whipping cream 8 Oreo cookies, coarsely broken into chunky pieces
To finely crush the Oreo, either use a food processor, or simply put them in into a ziplock bag and beat the crap out of it with a rolling pin (with a cloth underneath the bag if you don't want the police knocking on your door).
Mix the crushed and powdered cookie crumbs with melted butter, and press the mixture firmly into a 8 inch springfoam pan. I used a disposable aluminum pan for convenience of gift. Stash it in the freezer until it's being called for duty.
Using a double boiler, heat and combine the gelatin with the lemon juice and hot water.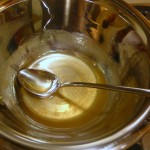 Beat the cream cheese, milk, icing sugar and rum at medium speed until well combined. Then add whipping cream and beat for about 5 minutes.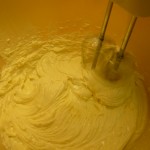 Add in gelatin mixture and stir till well combined.
Take out the Oreo crust, poke it a few times with a fork. Then pour half the cream cheese mix into the pan.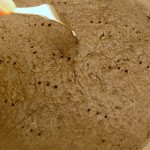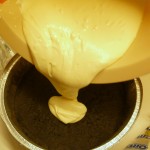 Mix the coarsely broken Oreo chips into the remaining half of the cream cheese mix, and give it 3-4 folds to incorporate the cookies. Then pour everything into the pan and turn the pan a few rounds to evenly distribute the cheese batter.
I do not like to crush the Oreo's too finely for this because I like chunky bits in my cheesecake, but if u do not, go ahead and improvise. The finer your cookies, the more grey in colour your cake would be.
Refrigerate until set before serve (about 3-4 horrible waiting hours)
Then have a light dinner so you can eat an extra slice for dessert.