There was a Yoga by the Sea event yesterday at East Coast Park and more than a thousand people turned up for the mass workout. Pity about the rain, or D-man and I could have stretched for a while longer. I kid you not, the skies were really dark.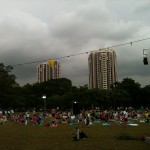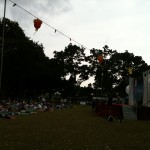 I feel in love with this tree. It has the looks of a I'll-look-out-for-you-and-will-protect-you-from-anything kind of tree.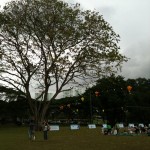 As luck would have it, a friend brought us to this little hangout named "Going Om" in the evening for a cuppa. We sipped Chakra Lassi's on the carpeted floor and were well-served by a native Indian (and may I add good looking) chap.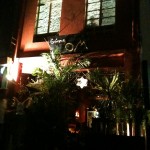 The menus and place do not have much to do with enhancing inner peace but I have to say it was a pretty holistic experience.
Coming back to yoga, I have experienced tremendous health and beauty benefits from practicing this ancient tantric science and I know many others whom lives have been changed by it. Yoga made me healthier, happier and even cleared my skin through the expulsion of toxins and improvement in blood flow. It is an exercise that everyone in every stage of life can enjoy with no ill-effects or strain on the body. Plus you need very little, just comfy cloths and a mat.
Please try it if you have not. I promise it will bring you nothing but good.