We had a closed-door-by-invitation-only-exclusive D-I-Y mooncake party. Not cause we were stingy but fact is we only had 1 mold. It's really quite fun and surprisingly easy, probably owing to the fact we had ready-made fillings and Jonalyn was such a great help. We threw traditions aside and made some wacky stuff like rainbow snow skin (at least A-gal tried) and even a couple with B&J's cookie dough ice cream fillings. We didn't manage to photograph the ice cream ones though. They went straight into our mouths.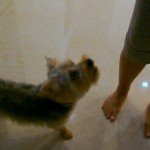 "I want some gimme some.. Gimme!!"
They were not perfect and some even had cracks in them but uniqueness is the magical product of D-I-Y. In fact I think A-gal's really proud of her success and totally addicted. I suspect she is secretly making some more at home right now.
Ps: that's Kahlua the silly silky by the way. Tail chaser, bed humper and toilet roll burglar.