The mid autumn festival is one of the nice festivity where sweet pastries & pretty lanterns make a warm comeback from childhood memories. It is a festival of togetherness, where gifts of mooncakes and tea are shared during the family gathering. Kids get to burn, oops I mean carry lanterns and eat little piggy biscuits bundled in colourful basket. It is also a day of romance. When he is not working, D-man and I would bring the furkids out for a long walk to admire the amazing full moon, often ending up at a nearby park bench, with the furries on our sides. Ok enough! Sorry for all the reminiscence. Must be one of those day I'm having a hormonal surge.
Point being, I like mid-autumn festival because it brings people together. Colleagues share an abundance of creatively flavoured pastries, families have dinner gatherings, girlfriends hang around and make mooncakes together, and neighbours have excursions to the park with the kiddos and their myriad of lanterns. Our neighbourhood committee even organized a party for residents to hang out and hang loose.
Paper lanterns are waaaaay cooler than the battery operated ones…..and so pwetty..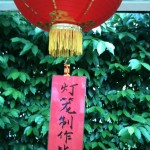 Lantern riddles. So traditional I didn't think anyone remembers it anymore.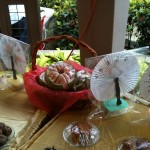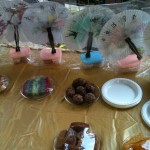 The longtime companions of mooncakes. Pomelos, chestnuts, and all sorts of goody goodies.
Come to think of it, any festival that assimilates excuses to eat and feast is a great festival isn't it?
Not that we need any.