Every Thursday evening, I am being transported to another faraway place. A getaway where people speak a different language and see, hear and feel a foreign culture. An anonymous meeting where a group people get together and immense in a same topic of interest.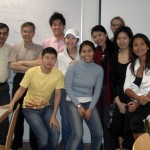 These are some of the funky students of my weekly German class.
I've been studying the German language for a year now and I can't recall a lesson that did not have us beaming with light hearted humour and enlightenment. The classes were almost never boring, kudos to the modern learning methods and applications at Goethe Institut. The lessons are, from my own experience, very interactive and heavily emphasized on engaging the students in various group activities. Sometimes like today, we would be bending over in stitches because one of us have had an outrageous bout of comical inspiration to turn an educational dialogue into nothing short of some serious Blackadder-ish drama.
The backgrounds of my dear classmates are as vast as the selection of candy at Willy Wonkers. We have doctors, a photographer, dentist, music teachers, swimming instructors, researchers, housewives, wannabes and bla bla bla.. The fascinatingly interesting people I have met at this school beats any social event handsdown and you know what is the best part? They keep coming back every week.