Today I received the sweetest email about how a six-year old boy acknowledges the death of his beloved dog calmly. The boy explained to his parents that the dog lived a much shorter life than us human because they have already learnt & mastered all that life has to teach:
Live simply
Love generously
Care deeply
Speak kindly
Be loyal

When love ones come home, always run to greet them
Never pass up the opportunity for a joyride
Always do every trick you can for a treat

Run, romp & play daily
No need to bite when a growl will do
Delight in the simple joy of a walk
Never pretend to be someone you're not
When what you want lies buried within, dig till you find it
When someone is having a bad day, stay close, be silent & nuzzle gently

The above pretty much sums up why we love our dogs, our best friends.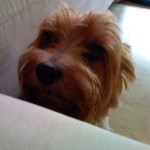 Have you shown someone you love him/her today? No need to wait till Christmas!