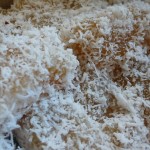 Ubi is the Malay word for tapioca, and if you like this wholesome yet down-to-earth (literally) root, you've hit paydirt! This is an easy-peasy dessert if you can find the required ingredients and a quality grater.
Cassy, this is for granny!
Ingredients
500gm grated tapioca
30g tapioca flour
100ml coconut milk
140g sugar (I used brown but white caster would do)
1/2 tsp salt
1/2 grated coconut, white part only (de-husked)
1/4 tsp salt
1-2 pcs banana leaves

Line a 7″ baking tin with banana leaves. Remember to always scald banana leaves with boiling water before use for hygiene. No point eating all that wonderful stuff only to have it involuntarily flushed out!
In a medium bowl, stir to combine tapioca, flour, coconut milk, sugar and 1/2 tsp salt.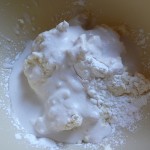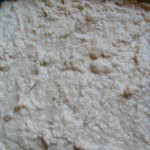 Place mixture into baking tin and steam on high heat for 45-50 minutes, or until you get a sticky, chewy consistency when you poke a fork in. Remove from heat and let the cake cool.
Meanwhile mix the grated coconut with 1/4 tsp of salt and lay onto a seperate dish. Steam the grated coconut on high heat for 5 minutes. This process keeps the coconut fresh longer.
Cut the cake into rectangle strips and coat the warm, gooey, springy cake with the grated coconut.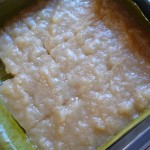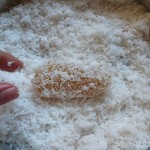 You may also cut the kueh in any fanciful shape you like but honestly, don't waste your time. Because every piece will be snapped up before you even finish saying "delicious".