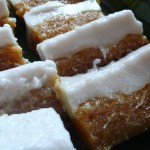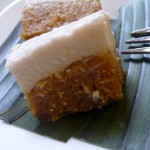 One of my favourite Nonya dessert. Its not sickeningly sweet and has a fragrant whiff of gula melaka (coconut palm sugar). Go wear your aprons right now!
Ingredients (makes a 8″ round deliciously sticky cake)
(bottom layer)
250gm grated tapioca
100gm gula melaka
100gm grated coconut, without skin
50gm tapioca starch, sifted
100ml water
pinch of salt
1 egg yolk
(top layer)
400ml coconut milk
50gm rice flour, sifted
pinch of salt
few drops of pandan essence (optional)
Line baking tin with banana leaves and grease lightly.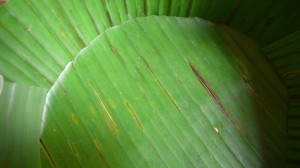 Combine all the ingredients for bottom layer and mix well. Pour everything into the lined baking tin.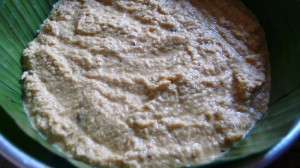 Put into the steamer (on high heat) for 12 minutes.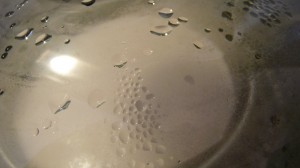 Don't twiddle your thumbs while waiting. Although that's what I did. Prepare the top layer by combining all the remaining ingredients and mix well.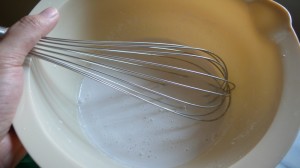 Remove the half-cooked tapioca layer from the steamer and let it cool for 2-3 minutes before pouring the top layer on it. Return the baking tin into the steamer for 30-35 minutes (until top layer is cooked and no longer watery).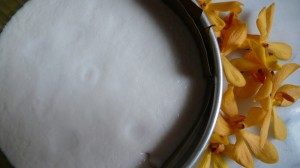 Tip: try to cool the cake completely before cutting to prevent getting yourself into a sticky situation, literally!