This local / Asian dessert is essentially a sweet spring roll filled with coconut. It's so easy to make, costs less than a bag of crisp and requires very few equipment. That is a relief for bummers like me who are so terrified of washing up we'll rather visit the dentist. Twice.
With some creativity, you could modify your own version of this crepe-like dessert with a variety of fillings ie. sugared crushed peanuts, red bean/lotus paste, vanilla custard….or stuff a Toblerone inside…or whatever tickles your fancy.

Ingredients
100gm grated coconut, white part only
50gm gula melaka (palm sugar) 100gm plain flour, shifted 150ml water
pinch of salt 2 tbsp pandan juice*
* to make pandan juice, snip 4 pieces of pandan leaves into smaller bits, put into blender/food processor.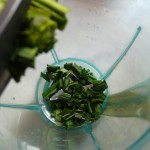 Add enough water to cover the leaves and blend. Sift out its remains and you'll get the glorious green juice.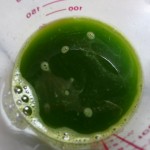 Chop or pound the gula melaka into small pieces.
Heat up a pan, fry grated coconut with chopped gula melaka and stir fry till coconut is well blended with the sugar. Set aside to cool.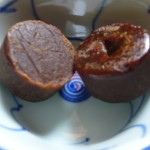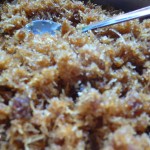 Prepare the batter by mixing shifted flour, water, salt and pandan juice into a smooth pancake mix consistency. (Do not go crazy with mixing as that will introduce air into the batter and your pancake will look like the moon's surface.) If you can wait, let the batter sit for a while to de-bubblelize. (yes that's a real word, Oxford would add it to their dictionary in the 2048 version)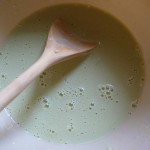 Heat a flat bottomed pan, turn to low heat and lightly oil the pan.
Using a ladle, pour batter in centre of pan and do a little swirly dance with the pan to spread batter into a thin pancake.
When the pancake is cooked (the surface should no longer look liquid), remove and repeat till the batter is finished.
Place coconut filling on pancake and roll up like a spring roll.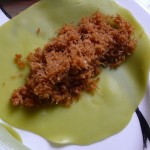 Usually hardworking and perfect people would roll the sides of the skin into the rolls to make a beautiful, neat looking roll. But you probably already know that hardworking and perfect ain't my traits. So forgive me. And my growling stomach.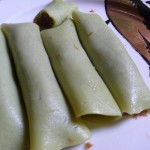 I have no idea who took that bite. It wasn't me. Uh-huh, not me. Nope NOT me. You can't prove it. Nobody saw it.