The background is that A-gal bought a super karaoke set which was loaded with like a million Chinese oldies that none of us could sing. So being the savvy shopper she is, the old (but cool) sweatshop gang was invited to her house for a crooning session. So I made some Pico de Gallo and guacamole (if you haven't tried it yet, the recipe is here. And believe me you'll want to try it. Its liberating!), loaded a tonne of chips and sour cream in the trunk and off we went to A-gal's.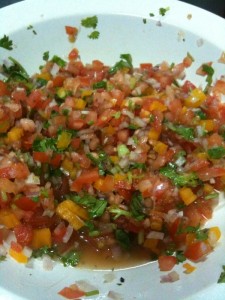 Everyone was polite and dainty at first. And we stuffed our faces with chips and dips. Then we found out that the super karaoke set had a grading system.
That was when all hell broke loose. Especially when we found out (unfortunately) that the louder you are, the better your grades were.
So my pals went from singing..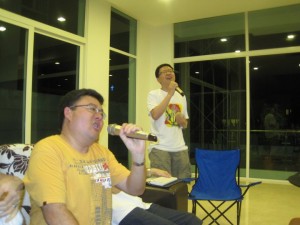 To squeezing every ounce of breathe they had in their pathetically puny lungs.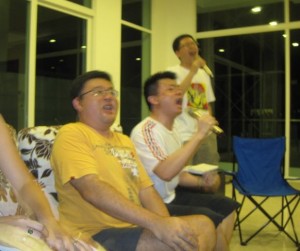 It was loud. Really really loud.
A-gal's domestic helper packed her bags and threatened to leave the house for good. A-gal's dog dug a deep hole in the garden and flung himself inside. It was that scary.
But at least someone was happy with his performance.