If you love Thai/Laotian food and vegetables, you'll find a little piece of healthy heaven in this one. I used fresh lettuce for this but you can also use "rice paper", which are essentially spring roll skins made with rice flour.
Prepare the following vegetables and plain rice noodles.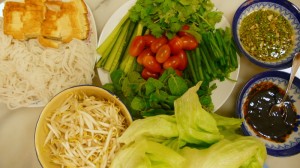 Prepare the dipping sauce by mixing fish sauce, lime juice, chopped chillies, minced garlic, coriander, sugar, water and chopped peanuts.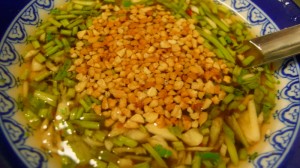 Wash the lettuce without breaking it. You need a whole piece like this.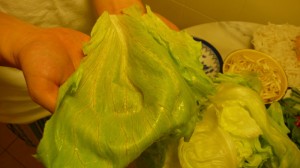 Add small amounts of rice noodles (cooked) onto the lettuce.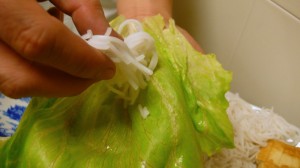 Add some bean sprouts. We love them raw as it is.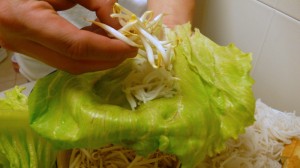 Dip the fried tofu into any variety of sweet sauce you have. Mine is a mix of honey bbq and dark chinese sweet sauce. You can also add shrimps or any cooked meat to satisfy the carnivore in you.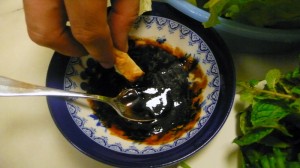 Put in the dunked tofu and add a cherry tomato.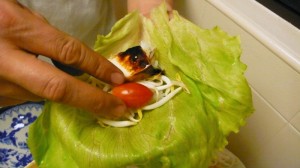 Add in mint leaves, coriander, cucumber strips and spring onions. (sorry am getting impatient here)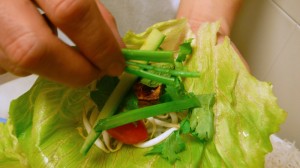 Pour in a good dose of the fantastic dipping sauce.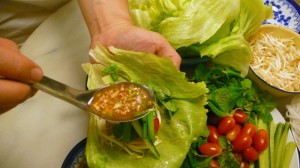 And its a wrap! You'll be trembling with joy by now even before you put the wrap into your salivating mouths. You can tell if your pinky defies your macho-ness and flies up.