If you're thinking of baking but do not own an oven, there is hope! I would never have believed you can use a flat bottomed pan like a oven if I haven't seen a live demo with my very own eyes. This pan is made with some special iron that allows the even distribution of heat, thus making it suitable for all sorts of cooking and baking.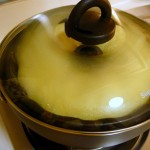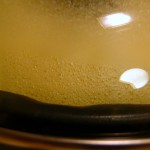 Ok, I don't think what I just said made any sense (am in a post dinner comatose right now) but I do know it bakes really soft, really fluffy cakes like these.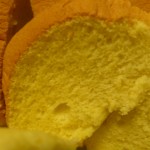 Yes I already have an oven, but baking on the gas stove saves more electricity and makes me feel a little less guilty about causing all that carbon footprint. *gulp*
Talking about gadgets, I have to say no one makes crazier things than the Japanese. They make products that others can only vaguely envision in their wildest dreams. Products and all sorts of stuff that seemingly make life easier for all plebeians like us. For example this, which I bought at a Japanese (but of course!) store.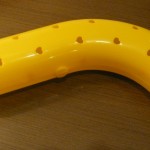 I can't fathom who else on earth would even thought of making a (affordable) banana carrier. What more with little heart shaped ventilation holes.
Ingenious or insane? I'll like to think it's a little of both.