Hi all, I am Aunty Scroogey, a guest columnist for The Peonies. Whether is buying stocks or socks, Aunty Scroogey (also known as The Aunty) likes to buy into value, not prices…. thus The Aunty will be writing on issues relating to buying values and being thrifty. For the record, Aunty Scroogey works in the market and is a scrooge because she has 3 kids to bring up single-handedly.
Recently, Aunty Scroogey received a $6.80 Bengawan Solo cake voucher, courtesy of her credit card's issuing bank. All Auntie Scrooge has to do was to spend an amount on the credit card, any amount. Aunty Scroogey put the voucher to good use, and bought a variety of kueh kuehs with it – all $6.80 of it, not a cent less.
And of course, good things must be shared. Aunty Scroogey distributed out the calories with her colleagues.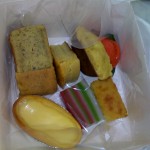 This is a perfect example of creating something out of nothing. Taking note of what your bank offers and  credit card promotions etc. can in fact save you a bundle in a long run. So keep your eyes and ears peeled always to get the best value!