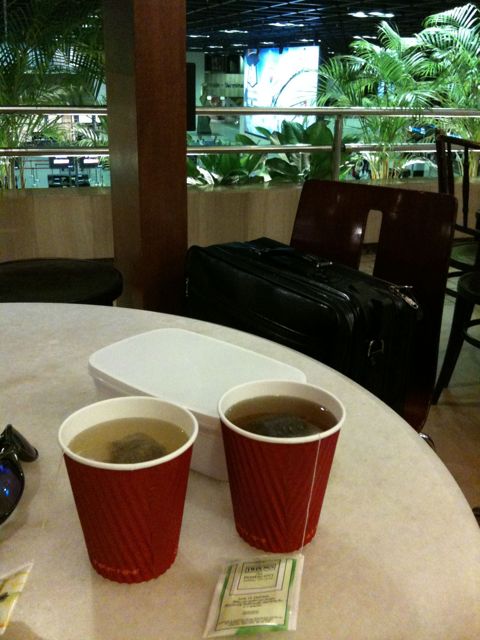 Am at the airport sending A-gal off to Rio, Brazil.
Yeah what's up with that ugly carryall A?
For those of us mere mortals who possess the insufferable fate of not being able to go overseas for a proper Christmas break, here's a few tips to keep you from sinking way deep into the hellholes of misery:
1. Start hating all your friends whom are going/have gone for their holidays. Go on, don't hold it inside. It's gratifying.
2. Forget point 1.
3. Plan a wee mini excursion to somewhere rural. Like a far away park or another beach which you hardly visit. Or your backyard.
4. Get family and friends together for potluck, drinks, games and simply catching up. What can go wrong with food arriving at your place!
5. Calculate how much money you had saved by not travelling this year. And double that and start planning where you can go next year!
6. Reward yourself with something you always wanted to get. They didn't make up the word retail therapy without basis.
7. Start baking and give the love to your friends, family, neighbours, co-workers…everyone. It is afterall the season of giving. Just try your best not to poison them.
8. Review and reflect on what you've done and achieved this year, and appreciate how things have turned out well (in loose measurements if you must). If you're alive and reading this, nothing that bad had happened.
9. Look for this year's resolutions and check off those that you have accomplished. Don't brood over those not achieved and give yourself a good pat on the back for those successful ones. Then seriously plan and set goals, resolutions and targets for 2010.  Set resolutions not to dictate how you live your life but which direction you are heading it.
10. Write a card to or call friends whom you've not met for some time. Take the time to bring them back into your lives again, and vice versa. They can be the hidden jewels inside the drawer you've forgotten about.
If all else fails check yourself into Holidays Rehab.
And send me a postcard with it's address.
Love,
Green Eye P.