I love Saturdays. I love weekends very much. But I love long weekends most-est! It's a time for catching up, for parties, to eat, drink and be merry. The coaches and some gym mates organized an impromptu BBQ at the beach.  So moment of spur that we did not manage to book a BBQ pit. Not that it will deter us.  Creativity is all that one needs.
Even The Rock has his cute moments.
If young fighters can cook, so can you. Classic line from coach's girlfriend says : "Wooaah your chili..I Thai see already also scared!"
The over enthusiastic and über friendly tag-along. Her (his?) name is ..yeah you guessed it. Goldie.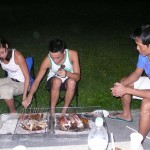 Coach doing what he does really well. Supervising.