The real stuff is difficult to find in Singapore and when you do, its usually not cheap. Guacamole doesn't keep well and it's always best to make it yourself (and eat it yourself too if possible) to be served on the same day . This is my slightly modified version of the real deal so please don't stone me too hard if you are from The School of Original Guacamole Recipes.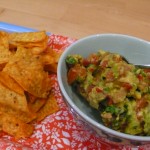 The guacamole orgy members are:
3 ripe tomatoes, diced
1 big yellow bell pepper, diced
1 tbsp chopped red onions (yes you guessed it…diced)
about 4-5 sprigs of coriander, finely chopped and, (wait for it)…… diced!)
Chilli*, how many you want depends on your sense of adventure (just 1 for me because I'm boring & a chicken, and oh did I mention diced?)
Lime juice, about 2 tbsp
Dash of olive oil, sugar, sea salt & freshly ground black pepper for seasoning
and of course Mr Avocado of the Superfood family! (must be very ripe and texture buttery)
*while the traditional guacamole is made with jalapeno peppers, it is not readily available nor cheap in Asia. I replaced it with red chillies.
Mix the diced tomatoes, bell pepper, onions, coriander and chillies in a generous bowl. Add lime juice, olive oil, sugar, sea salt and crushed black pepper (feel free to go crazy with it!).  Do the taste test and when you're fully satisfied, cut and core your avocado, mash it just lightly with a fork, and mix it in with all the other fantabulous veggies.
Serve with tortilla chips……a good DVD…..and tonnes of luuuurrrvve.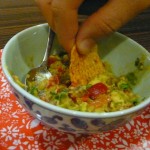 D-man would rob the bank for my guacamole. He doesn't even mind dipping his thick macho fingers into girlie flowery crockery.