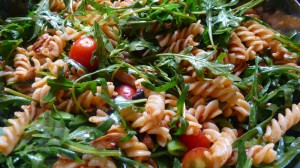 Once upon a time I had a wonderful Swede for a boss. He is very cool. I will never forget the time when he wore a tee-shirt that says "My sausage is deadly" to the office. Bet your boss didn't! Ha! Anyway, he married a gorgeous and kind exotica whom fed us many a great meals. She taught me this wonderful (and healthy) recipe and D-man and I have never gotten sick of it till now. I made it recently for some friends and realize that it's a really easy and fool-proof dish to bring to a potluck.
Ingredients
(serves 5-6 really big portions) 500gm Fusilli pasta 120gm Arrugula/rocket leaves 200gm cherry tomatoes*, halved
150gm Feta cheese, cubed
150gm sweet peas, cut each pea into 3 or 4
100gm pitted black olives, sliced
2 tbsp sundried tomato* paste (or more if you like)
1/2 cup extra virgin olive oil Sea salt and freshly ground pepper to taste
Cook pasta, let cool. Then mix everything together. Adjust condiments to suit taste.
Now was that easy peasy or was that easy peasy?
Let me think that over and get back to you later.
*psst:  Tomatoes are one of those "happy foods". They also contain lycopene which is a powerful antioxidant, and we all know antioxidants make you pretty and fights cancer cells.