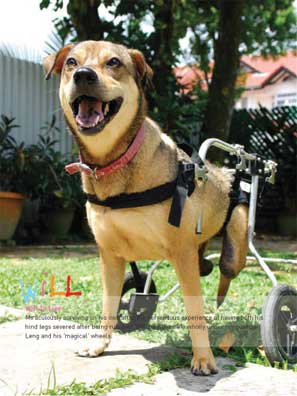 My eyes are swollen like Ultraman's at this moment, and not because I fought with D-man.
ASD was featured tonight on local TV, bringing the sad plights of the strays to light. The documentary revealed how some fantastic beings gave their lives to take care of the thousands of homeless dogs that end up on our streets because of unscrupulous breeders and irresponsible owners. Some dogs were abandoned because they had skin problems and medical treatment was expensive. Some unlucky ones are "given up" simply because the family is expecting a baby and have therefore no time nor room for their once cherished best friend. There are also cases of impulse buys and I think we all know what that leads to.  Some of the violently injured street dogs were rescued from inhumane animal traps which snapped off their limbs and tore the muzzles and necks.
There are founders of animal shelters and volunteers who have been giving up their available time and resources to help animals in dire needs. When most of us are happily eating dinners and watching telly, there are those who are in the middle of nowhere, usually armed with a touch light in construction sites and forests, tending to and feeding homeless dogs.  If I had to believe in guardian angels, these extraordinarily kind people would top my list.
Most welfare shelters in Singapore are reliant on public donations to survive. The next time you get your paycheck, do consider donating a part of it. It is our social responsibility to pay back to the society, be it with time or money.  No amount is too small, no thoughts too little.