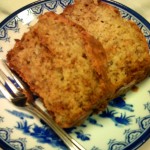 It's also one of my friends' and colleagues' favourite. On top of being really easy to prepare, it's so deliciously healthy (let's forget about the word "cake" and concentrate on the "banana"). The cast members are:
2 cups plain flour
1 tsp baking soda
pinch of sea salt
3/4 cups brown sugar (brown sugar feels more healthy don't ya think? no? ok nevermind)
125gm butter (I use salted in this recipe but I think it doesn't matter. But don't sue me)
2 cups (or 4 Delmonte sized) over-riped bananas, mashed (healthy!)
2 large eggs or 3 small ones, lightly beaten (my eggs are big and weigh about 68 grams each)
a drop or 2 of vanilla essence is optional (only if it makes your apron fly up)
Does the part about my eggs sound wrong or is it just me?
Preheat oven to 350 degrees Fahrenheit or 175 degrees Celsius. Lightly grease a large loaf tin (not necessary if you're using one of those cool non stick tins) and line it with baking paper. If you are using a smaller loaf tin, this recipe will yield 2 loafs. As a rule of thumb (not that I have many), I usually only pour batter till the tin is half full.
Shift the flour and baking soda into a big bowl (shifting is so therapeutic, try it. Try it now!). Add the salt and set aside.
In another medium bowl, cream the butter and sugar together. Usually people will tell you the approximate amount of time to beat & mix but really, who needs all that extra stress now. Once well-creamed, mix in the mashed bananas (healthy!) and eggs with a spatula. Just give it a good mix (not beat the hell out of it) and dump the wet mixture into the bowl with flour. Add vanilla essence (optional) and give it a good stir just to mix everything in (again do not beat the crap out of it). Pour the entire labour of love into your prepared loaf tin.
Push it into the centre of your oven and set timer to 50 minutes. Take off your apron, pour yourself some tea, grab a couple of biscuits and relax. About half an hour later, your kitchen will smell like a monkey's heaven and life will seem so good once again.
Your cake should pass the toothpick test after 50 mins. Otherwise tin foil the top to prevent over-browning (is that a real word?) the upper crust and bake another 5-10 mins more. Remove cake from tin and let it cool on wire rack before cutting.
Your neighbours will adore you forever if you decide to share the cake with them.
But if you don't I won't blame you.
Love,
C-gal