Nothing goes to waste in our household (yes we're that cheap!). After making Yammy Yummy, I still had a cup of freshly grated coconut left and so I went into overdrive and baked this soft, chewy cookie.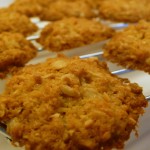 Ingredients
1 cup plain flour, shifted 1 cup grated coconut, only white parts (husk removed) 1 cup brown sugar 1 cup oats (I use whole rolled oats but flaked oats will do too) 50gm peanuts, chopped 125gm butter pinch of sea salt
1 tsp baking soda dissolved in 3 tsp hot water
Line a cookie tray with baking paper. Preheat oven to 200 degree celsius.
In a large mixing bowl, put in flour, coconut, sugar, oats, peanuts and salt. Give it a quick mix with a spatula.
Melt butter over low heat or if you're lazy like me, in a microwave. Remove from heat.
Prepare baking soda and water mix and add into melted butter. Stir to mix and pour everything into the dry ingredient in the large bowl.
Fold with spatula to incorporate all ingredients, forming a sweet-heart shaped dough. (yes the last bit is totally unnecessary)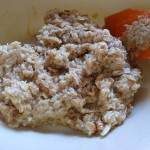 Using a rounded teaspoon and the spatula, drop cookie dough onto prepared cookie tray, leaving about 1.5″ of gaps in between each dollop.  (Tip: if you find this hard to handle, stick dough into the freezer for 5-10 minutes until it firms and starts shivering and is easier for you to make your perfect rounds)
Perfectionists, please turn away from my irregular cookie parade now.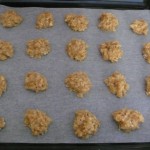 Bake for 15-20 minutes till it's golden brown.
Then remove the little babies with a fork and cool them on a wire rack. In the meantime worship them until they are cool enough to pop them into your greedy mouths.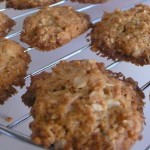 After finishing the whole lot of cookies, go for a marathon to get it off your behinds.
Or you can live with it like I did.
Love,
Skinny-wannabe