If you missed going to BXG on Saturday, this is what you really missed. (you know who you are! *smirks*)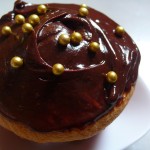 But don't worry not one of them were wasted. :)
Ingredients (makes 16 cupcakes)
225gm unsalted butter, softened at room temperature
225gm brown sugar
225gm self-raising flour, sifted
1tsp baking powder
4 large eggs (about 65gm with shells on)
1tsp orange paste
zest of 2 oranges
120gm semi-sweet chocolate chips
For the topping
100gm plain dark chocolate chips
75gm whipping cream
1tsp orange paste
225, the magic number for Asian avid bakers. Most American recipes calls for 8oz of this, 8oz of that. Just remember 225gm = 8oz, and you're an instant baking calculator guru. Whatever that is.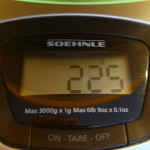 Preheat oven to 175 degrees Celsius. Place paper baking cups into muffin tins.
Combine all the cupcake ingredients except the chocolate chips (without the topping ingredients) in a large bowl.
Whisk everything till smooth on low for about 3 minutes. Gently fold in chocolate chips and spoon batter into muffin tins.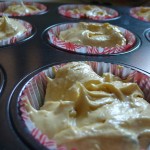 Bake for about 20 minutes. Toothpick should come out clean from cupcakes. Remove from oven and let it sit around and look pretty for a while.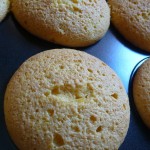 Then using a double boiler, melt chocolate chips. When the chocolate is stir-able, add whipping cream and orange essence and mix till well blended.
If you don't already have a double boiler, don't ever think of buying one! Simply use a glass or stainless steel bowl over saucepan of bowling water.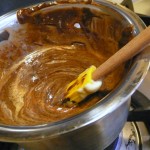 Cool slightly before spreading onto cupcake. Add some golden sprinkles if you are feeling fancy schmancy.
Refrigerate for a while to set the topping on the cupcakes.
Try to resist eating all of them alone.
Although I won't blame you if you did.