If you're looking for an idiot-proof cake that you can give your friends/family/rivals/neighbours/fellow inmates, something that's not too boring and yet not overly adventurous, you've hit bingo baby!
125gm butter, softened at room temperature (do not microwave! just take it out of the chiller and let it sweat out in the room for a while, or if u live in alps, eternity)
130gm brown sugar
3 large eggs (about 60gms each)
250gm self-raising flour, shifted
1 tsp of baking soda (not that I do not trust my self-raising flour, I just like insurance)
40gm milk
140gm semi-sweet chocolate chips
few drops of vanilla essence (optional)
Directions
Preheat oven to 170 degrees celsius
Grease and line your loaf tin with baking paper (greasing not necessary if you're posh & have a non-stick).
Mix the shifted flour and baking soda in a medium bowl. (I looooovvve shifting flour, I could do it for a full time job)
Cream butter and brown sugar till it looks well-creamed. (no, I have no idea what I just said) It should look something like this, but better!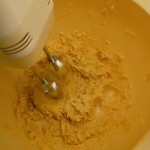 Then add eggs one at a time while still beating the butter/sugar mix.
Add flour and baking soda slowly, alternating with the milk to get a moist mixture.
Add in couple of drops of vanilla essence if that stuff rocks your world.
At this point, stop the mixer and using a spatula, stir in the chocolate chips lightly, just a few times.
Pour the wonderfully gooey mixture into your loaf tin, and set the timer for 45 mins.
Meanwhile get yourself a facial, a spray-on tan or a manicure. Unless you're mortal like me, then you do the cleaning up.
Do the toothpick test before taking the addictive substance out of the oven.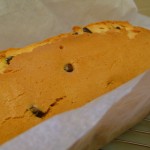 Do not be surprised if your neighbours are already whiffing at your door steps.