I have to be careful not to make this a foodie blog but I can't help it. Every time I make something decent, I can' t wait to share it with everyone.  Why get fat alone when all your friends can join you in the wonderful process right?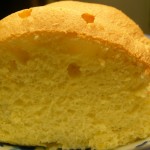 Ingredients
50g full cream milk
50g cream cheese
25g butter
4 egg yolks
1 tsp rum (or vanilla essence)
65g self-raising flour (sifted)
4 egg whites
90g caster sugar
1/4 tsp cream of tartar
*try to use large eggs (approx 70gm) in room temperature. Otherwise 5 smaller eggs to get a decently tall 20cm round cake.
1. Preheat Super B pan! (or 170 degrees Celsius in a conventional oven)
2. Heat milk, cheese and butter in a bowl placed over a saucepan of boiling water, or in a bain marie, until well mixed and cheese is no longer in big lumps. Remove & cool down. (the mixture, not you. Not yet.)
3. Add egg yolks into cooled cheese mix, add rum/essence and stir until well combined.
4. Fold in shifted flour and mix until you get a smooth paste.
5. Beat the egg whites until frothy, add cream of tartar and beat till soft peaks. Add sugar in 3 parts and beat the crap out of it till you get stiff peaks & Madonna arms.
*It is recommended that you use a stainless steel bowl with even sides. Plastic bowls tend to trap oil/moisture and will make the egg whites stubborn as mules. And it is best to beat egg whites in one direction, otherwise they get confused.
6. Fold 1/2 of the egg whites into cheese/flour mixture, gently with a wide rubber spatula until just blended.
7. Pour cheese mixture (from step 6) into the rest of egg whites, and hand whisk it gently with rubber spatula until blended.
8. Put batter into a 20cm chiffon cake pan (grease and flour pan if you do not mind a smooth skinned chiffon, otherwise be prepared for lots of waiting, pacing and pounding if you're impatient like me). Bang the pan on a hard surface (with damp cloth underneath if you still like your neighbours) to release the bubbles and bake for 25-30 minutes on stove top on low fire or 35 – 40 minutes in an oven at 170 degrees Celsius.
9. When the cake is cooked, invert the cake to cool. Remove the cake from the cake pan when it is completely cool, approximately 20 minutes. (in other words eternity if you're dying to taste the cake.)
Use your own creativity to make other chiffon varieties like matcha!