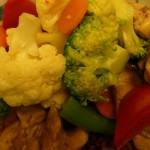 Pipin (a real person, not a hobbit) taught me this dish when I was training in Thailand. She's a talented cook with a big, kind heart. In fact she's so nice I wanted to pack her into my suitcase and bring her home.
Having said that, she is also the cause of my typical weekend evening:
me: What shall we have for dinner?
D-man: I don't know. What do you think?
me: hmm..how about pasta?
D-man: 'pose we can……
me: you don't sound excited. how about sushi?
D-man: hmmmm….
me: what about curry?
D-man: *silence accessorized with a face furrowed deep in thoughts*
me: salad?
D-man: *checks his fingernails*
me: pizza?
D-man: *crickets*
me: ok ok, cashew nut chicken?
D-man: YES! Let's go to the supermart now!
That pretty much sums up how much he like this dish, and my feeding duties.
Ingredients (serves 2 very hungry, very greedy persons)
2 chicken thighs, deboned & cut into chunky bite size
80gm sugar beans, cut into 3′s or 4′s if 3 ain't your lucky number
1 cup brocolli, cut into bite size
1 cup cauliflower, cut into bite size
1 cup carrots, sliced into thins
1/2 onion, diced into chips
2 gloves of garlic, minced
handful of shitake mushrooms, sliced
1/2 – 1 chilli, thinly sliced
handful of raw cashew nuts
Condiments
3 tbsp cooking oil (I use veggie oil)
2 tbsp Oyster sauce
Dash of fish sauce (depends on how much you like the stuff)
1/2 tbsp sugar
Pinch of sea salt
Dash of sesame oil (optional)
I'm tabling the ingredients & condiments very loosely cos you should customize the dish to your very own liking. I.e. you don't have to add cauliflower if it puts you off your mojo.
First heat up a wok and add cooking oil but do not overheat oil (oil must not smoke). With medium heat, lightly fry cashew nuts. They cook real quick so just give it a few toss & dish them up onto blotting serviettes when they get a slight tan.
Using the same heated work, fry garlic and onions till garlic turns golden and onion chips are slightly soft, and add chicken. When chicken turns pale, throw in mushrooms and all other vegetables. Give everything a good stir & wok out those arms! (wok up! Geddit? Geddit??)
When veggies start to wilt & soften (do not overcook veggies or I'll spank your bottom!), add in all condiments except sesame oil & taste to adjust, or adjust to taste, whichever you fancy. Once everything is perfect, dash in the sesame oil (optional) & serve the wonderful deliciousness with warm rice.
Then be prepared to get demanding request to cook this awesome dish every night.