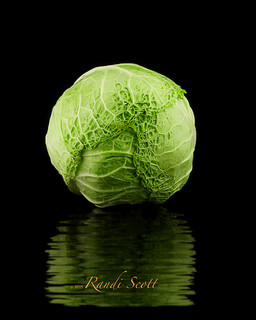 Many of you may not like cabbage, but please read the article below. It may change your perspective about this humble vegetable.
Image by New Talent Modelling via Flickr
Cabbage
What's New and Beneficial About Cabbage

Cabbage can provide you with some special cholesterol-lowering benefits if you will cook it by steaming. The fiber-related components in cabbage do a better job of binding together with bile acids in your digestive tract when they've been steamed. When this binding process takes place, it's easier for bile acids to be excreted, and the result is a lowering of your cholesterol levels. Raw cabbage still has cholesterol-lowering ability, just not as much as steamed cabbage.
WHFoods Recommendations
You'll want to include cabbage as one of the cruciferous vegetables you eat on a regular basis if you want to receive the fantastic health benefits provided by the cruciferous vegetable family. At a minimum, include cruciferous vegetables as part of your diet 2-3 times per week, and make the serving size at least 1-1/2 cups. Even better from a health standpoint, enjoy cabbage and other vegetables from the cruciferous vegetable group 4-5 times per week, and increase your serving size to 2 cups.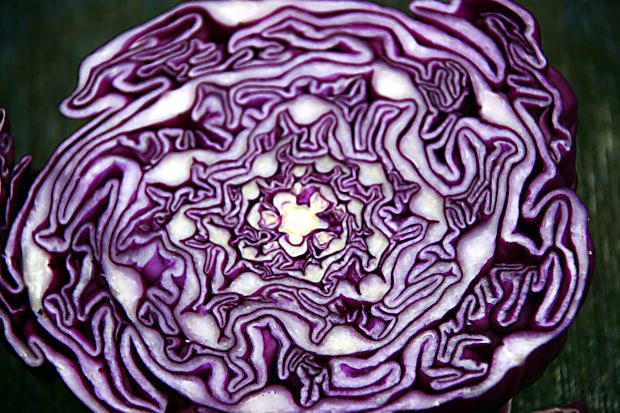 Red Cabbage
While green cabbage is the most commonly eaten variety of cabbage, we highly recommend trying red cabbage because of it added nutritional benefits and its robust hearty flavor. We don't think you will be disappointed. The rich red color of red cabbage reflects it concentration of anthocyanin polyphenols, which contribute to red cabbage containing significantly more protective phytonutrients than green cabbage. Interest in anthocyanin pigments continues to intensify because of their health benefits as dietary antioxidants, as an anti-inflammatory, and their potentially protective, preventative, and therapeutic roles in a number of human diseases.
Health Benefits
Cancer prevention tops all other areas of health research with regard to cabbage and its outstanding benefits. More than 475 studies have examined the role of this cruciferous vegetable in cancer prevention (and in some cases, cancer treatment). The uniqueness of cabbage in cancer prevention is due to the three different types of nutrient richness found in this widely enjoyed food. The three types are (1) antioxidant richness, (2) anti-inflammatory richness, and (3) richness in glucosinolates.
Anti-Inflammatory Benefits
Without sufficient intake of anti-inflammatory nutrients, regulation of our inflammatory system can become compromised, and we can experience the problem of chronic inflammation. Especially when combined together with oxidative stress, chronic inflammation is a risk factor for development of cancer.
Cardiovascular Support

You can count on cabbage to provide your cardiovascular system with valuable support in the form of cholesterol reduction. Researchers understand exactly how this process takes place. Your liver uses cholesterol as a basic building block to produce bile acids. Bile acids are specialized molecules that aid in the digestion and absorption of fat through a process called emulsification. These molecules are typically stored in fluid form in your gall bladder, and when you eat a fat-containing meal, they get released into the intestine where they help ready the fat for interaction with enzymes and eventual absorption up into the body. When you eat cabbage, fiber-related nutrients in this cruciferous vegetable bind together with some of the bile acids in the intestine in such a way that they simply stay inside the intestine and pass out of your body in a bowel movement, rather than getting absorbed along with the fat they have emulsified. When this happens, your liver needs to replace the lost bile acids by drawing upon your existing supply of cholesterol, and as a result, your cholesterol level drops down. Cabbage provides you with this cholesterol-lowering benefit whether it is raw or cooked. However, a recent study has shown that the cholesterol-lowering ability of raw cabbage improves significantly when it is steamed. In fact, when the cholesterol-lowering ability of steamed cabbage was compared with the cholesterol-lowering ability of the prescription drug cholestyramine (a medication that is taken for the purpose of lowering cholesterol), cabbage bound 17% as many bile acids (based on a standard of comparison involving total dietary fiber).
Conclusion is to eat a well rounded plant based diet.
…and there are people who really love cabbage.
Good news is I love cabbage, bad news is , I love cabbage !!!!!!

— James FitzGerald IV (@) Tue Aug 6 2013
How can I forget to share a recipe with you.
Some interesting facts about cabbage:
Traditionally, wild cabbage was used as an aphrodisiac.
Cabbage Quote:
Training is everything. The peach was once a bitter almond cauliflower is nothing but cabbage with a college education. – Mark Twain