I so love flea marts and bazaars. I would stop doing anything I was doing in a heartbeat if I know there is a bazaar happening within 2km. The stifling heat and sweaty bum to bum crowds? No matter. As long as I get to uncover treasure coves of unique and quirky fashion, handmade accessories and great bargains, happy camper I would be.
I went to one during lunch this week. The sacred lunch hour is easily one of my favourite time of the day. The only time that best combines the national sports of us Singaporean. Eating and shopping.
Sorry I was distracted. That's my usual reaction to that lunch word. This bazaar was put together by a bunch of tertiary students. I think it's a great programme that hones these kids with real life business skill sets. You learn to sell, others pay for your education. Definitely win-win.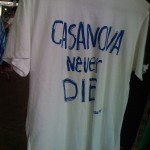 Tee-shirts, a no-brainer classic.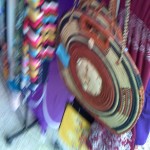 Hand woven unique bags from a country I can't spell nor pronounce. *sorry for the shaky picture, my hands were quivering with excitement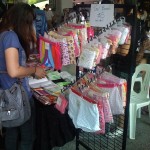 Girl boxers and comfy underwear, every girl's essentials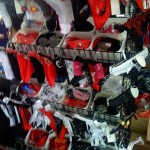 Unless you're the sexy wild thing I never was, then this would be your choice of modesty coverage.