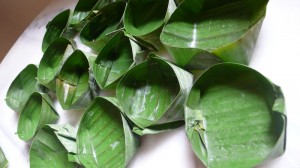 Use this pretty and easy to make ornaments to dress up your cakes, pastries and what not. Its very green, literally, and costs next to nothing.
Before using banana leaves, always scald them in boiling water to remove any bacteria or yucky stuff that you won't want to go near. Wipe the leaves dry and air them a little before cutting them.
Start off by cutting a fairly square piece. You can estimate a square by folding a triangle from the edge.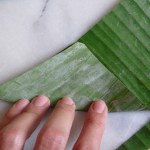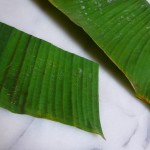 After getting your squares, fold the corners down. Be sure to fold towards the natural grains of the leaves. (not against!)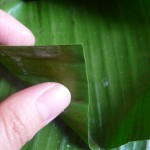 After folding down the corners, fold in the top and bottom corners. Then secure the fold with a stapler or toothpicks if you are finicky about staples.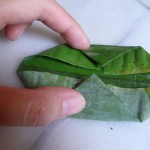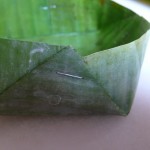 If you are Martha or Bakerella, you would make sure all your banana leaf boats would turn out the same size.
Obviously that's not the case with yours truly.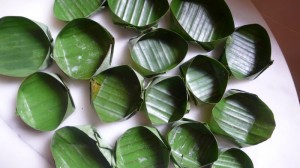 But what's really important is that you share the goodies with your friends and love ones.