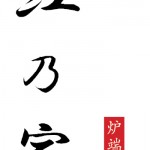 The D-man and I went on our usual Friday night date and ended up at a fantabulously authentic Japanese restaurant, Akanoya Robatayaki. Actually, that is an understatement. Being in that restaurant was like being transported by one of Michael J. Fox's time machine into the cool, amazing Japan.
The place looked like a traditional Japanese hut on the facade. When you enter, a string of chorused "Irashaimase" is bellowed with so much warmth it's enough to make you feel like a superstar. And it just gets better. Attentive Japanese servers get us seats immediately and warm towels appeared out of thin air. After being served a drink of our choice and some pickles, we asked for the menu and was sent a very simple yellow card consisting of staples like rice, noodles and soups. The server then explained politely that the usual style of ordering is to simply pick from the so-fresh-we-thought-they-were-ornaments array of meats, seafood and vegetables in front of the Robatayaki (Japanese grilling) counter.(read: We only serve the freshest. Have you not noticed we're Japanese?)
Being totally awed and fascinated, we were so eager to try everything we over ordered and ended up stuffing ourselves to the ears. Every dish was impeccable and tasted like it was alive just seconds ago. The piece-de-resistance was when during the midst of the meal, the staff starting teaching us patrons the signature rhythmic claps of their welcome song. At this point D-man started humming and air-clapping in a highly concentrated "I want to be the best clapper" manner. Minutes later, we were singing and clapping and woo-ing like audiences in a Japanese game show and boy did we bring the house down.
We went home S$250 poorer but felt like we just came back from a Japan holiday.
Time to save up for the next round.
PS: sorry there were no pictures. I was too self-conscious and afraid of being mistaken for a tourist. Besides we were so busy stuffing our fat faces we had no time for the camera.