This is the Berlin's version of MacDonald's, a must try when you go to the biggest city of Germany.  The legen-, wait for it, -dary Mr V. Braun says that if you don't like currywurst, then you haven't had one in Berlin!
My star of the wonderfully unhealthy but gratifying dish. If you had no such luck finding curry ketchup, simply improvise with tomato sauce and curry powder. You'll need an extra dose of curry powder later anyway.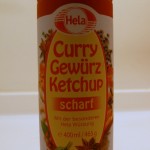 The traditional Berliner currywurst is made with knockwurst. But if you live in the tropics at 1°14′N 103°55′E of the world, I think its forgivable to use bratwurst like I had. This is so easy to make there won't even be an ingredient list. All you need are the sausages, curry ketchup and curry powder.  Some people also put chopped onions and paprika for their adventurous palate.
Currywurst is typically served with chips, but I am not in a hurry to put on some kilos yet.  So I pan fry some baby potatoes with butter, garlic powder, sea salt and freshly ground pepper.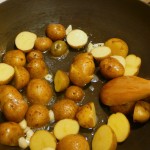 Grill, broil or cook the sausages anyway you like, pour on the tomato sauce and sprinkle lots of curry powder. Serve with potatoes, bread rolls and fresh salad to make it a full meal.