I've come a long way. We've come a long way. It's the 100th post on The Peonies! Let's rock the house and pop the champagne!
This reminds me of the New Year's resolutions I set for 2009. More than 3 quarters of the year has passed and I have completed some of the things I set out to do, but along the way I did lots more that I never thought possible. Like documenting my silly, sometimes boring life on a website.  Life is always throwing us with surprises.
Like finding this really old photo on an old hard drive.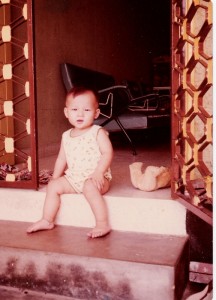 How could anyone know at that time this chubby little thing would grow up to be one of the most fantabulous person in the world.
Like I said, life is so full of surprises.